Riverside Covid-19 Updates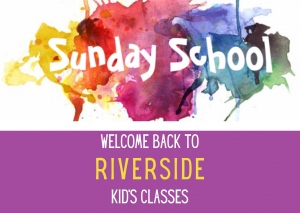 Covid Updates: Please don't forget that you need to reserve a spot on Eventbrite (click here) to attend the Christmas Eve services.

Hey Riverside, we've got some changes going on at Riverside these days so I wanted to give an update on what's happening.
Currently we have kid's programs open up on a limited basis at both Sunday morning services but for now no Saturday night kid's programs. We are asking that you sign your kids up if you're planning on bringing them since we have a limited number that we can take at the moment. You can read all about how we're proceeding with the kid's classes by following this link (https://www.signupgenius.com/go/70a0c45aca628aafc1-riverside1).

If you'd prefer not to fill out a contact form when you get to Riverside you can sign up through Eventbrite and skip that step and walk right into the sanctuary when you arrive.
We are still under the muni Covid restrictions so masks are still a thing unfortunately. The kitchen is also still closed so if you want coffee or a snack for now it's bring your own.
We will have the windows opened to allow the flow of fresh air so bring a jacket because it can get cold.
Please do your best to social distance. The CDC recently changed their social distancing guidelines from 6 feet to 3 feet in learning type situations (which I figure is pretty much what we've got at Riverside) so it should be easier than ever to successfully socially distance according to the CDC's guidelines.
These are tentative steps forward but we are still pretty excited about them. If you have any questions please let me know.
Jesus is awesome!
Pastor Ed


New Weekend In-Person Service Added
Sundays at 11 AM:
Hey Riverside- we're trying an experiment. We're going to add back in one Sunday AM in-person service starting this weekend (January 10th) BUT (and as a friend of mine likes to say this is a REALLY big but!) we are not doing it at either of the previous Sunday service times.

In other words we're not just picking between our 10 AM and our 11:30 AM people- we are doing this service at 11 AM to try to make it as efficient as possible for everyone who wants to attend in-person on Sundays to do so no matter which service they attended before.
We're doing it this way because there just wasn't enough interest in Sunday AM in-person services to justify putting the volunteers at risk twice. We'll see what the interest is in the 11 AM service and see how it goes- that's why this is an experiment (makes it almost sound exciting that way, hmmmm?).

For those of you who will continue to stay home and watch online that's ok- we get it. There are a LOT of reasons to watch from home right now and we do not want to try to guilt people into coming to the building thinking that somehow will add to your righteousness factor. Stay home until you feel comfortable returning to Riverside and we'll miss each other until that day comes.

However if you are one of our virtual members I wanted to make sure you guys realize this means there will only be one virtual service on Sundays at 11 AM rather than the two we did in past at 10 AM & 11:30 AM.

If you plan on attending any in-person services please reserve your spot on Eventbrite (http://EagleRiverside.eventbrite.com) so we don't end up with too many folks that we can't socially distance safely.

How long will this last? Who knows? I guess God does but He's not sharing that information with me at present. We'll try this and see how it goes.

And please keep praying for the leadership of Riverside, the volunteers who keep our church pushing forward in the age of covid and for all of us who call Riverside home. This is a tough time and we are all doing our best to navigate stormy waters.

Jesus is awesome!

Pastor Ed
Christmas Eve To Go Bags:

*** Christmas Eve To Go Bags are ready!
To get yours stop by the church either Wednesday night from 5-7 PM or Thursday morning from 9-10 and call 907-205-0707.
If you signed up for a family bag when you call just give the last name and the bag will be set out front with your name on it.
If you'd like a Go Bag and did not sign up that's ok! This is Riverside after all. Just call when you arrive at the church and give the the number of people in your family, including kids and the bags will be placed out front for you to come and grab safely socially distant! All of us may not be able to gather together this year, but that doesn't mean we can't be together apart! Don't forget to share your virtual service from home!
Merry Christmas everyone!



Hey Riverside, if you're going to be joining us virtually (online) on Christmas Eve you'll have your choice of three times to "tune in"- 4 PM, 5 PM & 6 PM.

We are putting together some Christmas-Eve-To-Go bags for those of you who will be watching from home with candles, communion stuff (I chose the word "stuff" not to be irreverent but because wars have been fought over what to call the bread and cup so I didn't want to draw any lines in the sand by choosing emblems or elements ;0), a genuine Riverside bulletin and kids' bulletins for any youngsters who might be tuning in with you.

If you'd like to order a Christmas-Eve-To-Go bag please follow this link and fill in the info so we can have your bag ready for you. More info will be coming as to when to pick it up and what that process will look like.

Jesus is awesome and it's almost His birthday! Well... it's almost the day that was chosen to celebrate His birthday even though He was probably born in Spring time based on where the shepherds were but again... probably more info than we all needed. See you soon- I miss you guys.
And the bags probably won't look exactly like that but I wanted to draw your attention to this post so there you go.



-------------------------------------------------------------------------------------------------------------------
Hey there Riverside. With the major uptick in Covid cases recently we have been wracking our brains and praying like crazy trying to figure out what Riverside's weekend services would/should look like. Trying to walk that line between caring about people's physical health and their emotional/spiritual well being is not an easy proposition.
As I say in every Covid update- I have no idea what next weekend will look like at Riverside but here's what we're going to try for this weekend- we're going to do one in-person service on Saturday, November 21st at 6 PM with a limit of 30 attendees. That may seem like a small number but if the numbers trend the way they've been trending staying under that amount won't be a big trick. Between the mask mandate (not many are willing to sit for an hour wearing a mask in church and more sympathetic I could not be), no coffee or donuts, the windows being opened to provide fresh air (in the winter at least it keeps people from nodding off ;0), no kids' classes and the ever-present threat of the Covid virus we haven't been putting too many more than that through our weekend services doing 3 in person services.
You may be wondering why Saturday evening rather than Sunday morning. Great question. It's mainly a question of logistics and making life as easy as possible for the volunteers that help make our services possible. If this Saturday evening service works out ok we may alternate every other week between a Saturday service and a Sunday AM service. But for this weekend we will try Saturday evening. You can reserve your place by clicking here.
IF YOU PLAN ON COMING (sorry to shout but I'm almost a boomer and I wanted to make sure you read this next part) please sign up on Eventbrite before you come. We're going to be pretty careful about making sure we don't have too many people in the building to safely distance and we don't want to turn anyone away at the door.
Also remember that masks are mandated under the Municipality of Anchorage's emergency order- everyone must wear a mask (unless they are physically unable to wear one in which case they must wear a face shield). We have some really nice masks to share with you if you don't have one when you arrive.
This is an experiment to see what doing one service every weekend might look like. We may try something completely different next weekend if this doesn't work out well. I know it's been awfully challenging just trying to keep up with the changes at Riverside over the last several months but in a way you're lucky- you chose to make Riverside your church which means you're used to things not going terribly smoothly in the best of times.
Thanks for your understanding and patience as we try to navigate this covid laden minefield. Which reminds me of one more thing to mention- I know all of us have very strong opinions about the Covid virus and the city's/state's/nation's responses to it. Please keep your opinions about these things to yourself when at church. We are a politics free zone and right now there's nothing more political that Covid.
See you all soon (or at least sometime).
Jesus is awesome!
Pastor Ed
Since the Lord is directing our steps, why try to understand everything that happens along the way? Proverbs 20:24

--------------------------------------------------------------------------------------------------

Hey Riverside, I wanted to let you know that as of this weekend (November 14/15, 2020) we are going to online weekend services only. Between Nate (our worship leader) being put on lockdown by the military, the surges in cases, deaths and hospitalizations as well as many of the folks who make a Riverside weekend service happen being in isolation because of possible exposures we just felt like it was the way to go for right now.

This is never an easy decision to make for the leadership at Riverside. I know there are a lot of strong opinions about this whole mess and knowing what the "right way" is isn't always clear and so we have to rely on prayer, wisdom and guidance. We've been praying. We've been seeking God's wisdom and doing our best to flow with His guidance. And it's brought us to this place where we feel the prudent thing to do is exercise an overabundance of caution.

To this end we won't even be getting the worship team together this weekend to record church services- the worship team will be working on doing some unique things that I'll add to the lesson and we'll see how all of it works out- ought to be an adventure. And we're getting more and more used to "adventure" around here so rather than worried we are curious to see how it will all work out.

The one thing that has kept me from cancelling in-person services over the last month or so was people's need for connection that many have a tough time fulfilling through online services. The internet is a true blessing to us (yes, like everything in life it can also be a curse) and I thank God continually that we were already pretty well set up to stream our services online and with our online giving portal we are surviving financially (more on that in a moment).

But many of us are feeling cut off from their connection with the Riverside community. So if you would like to get together during the week we can make an appointment to meet at the building when nobody else is there to get their nasty germs all over you (and so you won't get your nasty germs all over them ;0) and we can spend some time just talking about what's going on in your life- properly distanced of course so I don't get any of my nasty germs all over you.

And finally about our financial situation. We are doing ok. Riverside is uniquely situated to ride this crisis out financially (the Barna group predicts that in the next 14 months 1 out of 5 churches in the world will cease to exist). We own the building free and clear and don't have any large debts. We have been able to continue paying our staff members even as they work from home and we thank God for that. We have also continued to give generously to organizations that we have always supported so that we don't fall into the trap of becoming inwardly focused. We have been slowly but surely watching the money in our bank account go lower and lower each month but that's to be expected with nobody coming to church physically. Thankfully an awful lot of our donations come through the online giving portal but not all of them.

As I do any time I talk about money (something I rarely do even during the worst of financial times) I will make the disclaimer that if you don't trust Riverside with your money then please don't give to us (that thump you just heard was our treasurer passing out after reading those words ;0). But do not let this crisis keep you from the blessing that comes from giving cheerfully and generously back to God. It was during Israel's toughest times that God was constantly reminding them to give extravagantly to the missions God was at work in.

So if you have made a commitment in your heart to give to Riverside then you can give online or you can mail in your donations or drop them off at the building- just slide an envelope through the door and we'll find it when we come in the next time.

But most of all just be praying and asking yourself how you can be a blessing to others during this time. Thanks for taking the time to read this and I know I must sound like a broken record but I'm really looking forward to the day when all this is behind us and we can get back to meeting together in person again.

Jesus is awesome!

Pastor Ed


- - - - - - - - - - - - - - - - - - - - - - - - - - - - - - - - - - - - - - - - - - - - - - - - - - - - - - -

Hey Riverside- we're back to having live church services again beginning this coming weekend (September 5/6, 202). However, we still have many restrictions we are dealing with. Read all about it:
1. We are limited to 50% capacity (which if the attendance numbers in July are any indication that won't be any trouble for us. 50% would be around 100 people and until we start kids classes up again I just don't see us coming anywhere near that number.
2. Masks are still required by the municipality in all gatherings. Sorry about that. I know all of us can't wait to be like Saul- on the road to De-mask-us. See, it's funny because Saul met Jesus on the road to Damascus which sounds an awful lot like de-mask-us. I know, if you have to explain a joke it isn't funny. Probably wouldn't have been all that funny anyways but when has that ever stopped us at Riverside. Anyways, mask up Riverside for the foreseeable future.
3. Since we are required to keep a contact log of anyone who joins us at Riverside for a gathering you have two choices- first you can register for a service on Eventbrite or you can fill out a contact form when you arrive. I know it's probably starting to feel like just coming to church sounds so exhausting but we're all just doing the best we can to survive.
4. Still no kids classes. We aren't ready to turn our children's church into a lab experiment just yet. Kids are more than welcome IN church but they'll need to stay with all of us even through the boring sermon (sorry kids but I will try to make sure the video clips I use are somewhat entertaining for those of us with a more discriminating sense of humor).
5. Kitchen is still closed. If we offer food/drinks it completely changes how many of us are allowed to gather together so for the foreseeable future if you want coffee and donuts bring your own (and you don't even have to bring enough to share!).
6. We've brought the blue fabric chairs (the most comfortable church seating in all of Eagle River if not the entire world- who knows? I can't prove it's NOT true) back out but only half of them so there's plenty of room between rows. Please keep 3 chairs between yourself and anyone not in your immediate family.
7. We will be opening the windows to allow fresh air to circulate SO DRESS WARM (I don't intend to shout that but I wanted to make sure you didn't miss it, hence the upper caps).
8. We will still celebrate the Lord's Supper/Communion together every weekend just like we always have but the way in which we do it will be different. Rather than pass two trays- one with the crackers and one with the juice- we'll have trays sitting on tables around the auditorium. In each slot will be two cups stacked one upon another. The bottom cup will have the cracker and the top cup will have the juice. Grab both cups and eat the cracker and then drink the juice and we'll continue to do what Jesus asked us to do: "On the night when he was betrayed, the Lord Jesus took some bread 24 and gave thanks to God for it. Then he broke it in pieces and said, "This is my body, which is given for you.[f] Do this in remembrance of me." 25 In the same way, he took the cup of wine after supper, saying, "This cup is the new covenant between God and his people—an agreement confirmed with my blood. Do this in remembrance of me as often as you drink it." 26 For every time you eat this bread and drink this cup, you are announcing the Lord's death until he comes again."
9. No touching (fans of Arrested Development have George Senior's voice running through your mind right about now). No handshakes or hugs. We suggest finger guns from at least 6 feet away (introverts you're welcome).
10. We will have separate entrance and exits. Entrance will be through the double doors on either side of the building. Exits will be through the fire doors at the front of the auditorium.
11. We will have hand sanitizer throughout the building and hand washing available in the bathrooms. Please try to limit the number of people in the bathrooms to just two at a time.
12. If you do not yet feel comfortable venturing out please don't think that attending services in person is any kind of spiritual test. You don't get extra points for showing up in person. We could try to sell the double-the-holiness thing but I just don't see it. Keep yourself safe physically, emotionally, psychologically and spiritually and we'll see you when you feel comfortable rather than when someone else tells you that you should feel comfortable.
This is not going to be a smooth process but you want the good news? You have chosen to make Riverside Community Church your home so you're used to less than smooth processes, aren't you? There are plenty of churches out there that are well-oiled-machines that you could have chosen to call home but this is what you've gotten yourself into- you're stuck with us now ;0)
Remember- never stop praying about this whole situation.
Jesus is awesome! Even in the midst of a pandemic. He will see all of us through this the same way He's seen His children through the toughest of times since time began. Never forget that.

- - - - - - - - - - - - - - - - - - - - - - - - - - - - - - - - - - - - - - - - - - - - - - - - - - - - - - - - - - - - - - - - - - - - - - - - - - - -

Due to the latest round of emergency updates Riverside will be going to online only for all of our weekend services for the month of August. See you online everyone!

____________________________________________________________________________________________

With the Mayor's last round of emergency orders people are asking how that impacts weekend church services at Riverside.
To be honest- I'm not sure yet. I DO know that for this weekend it doesn't change anything. The order doesn't go into effect until Monday so this weekend will be like last weekend- masks required, social distancing in place and we are required to keep a log of everyone that visits the church just in case someone later tests positive and we have to let those who attended a service with them know that they were exposed.

For next weekend if the Mayor's order continues to include religious services in the 15 or less gathering number restrictions then we'll need to go back to online only until that restriction is lifted. Tune in to this page for updates.

Thanks for understanding how crazy all of this is for all of us trying to plan and say a prayer for everyone who is suddenly tasked with a job they never foresaw themselves doing.

Jesus is awesome!

-------------------------------------------------------------------------------------------------------------

Hey Riverside- just a friendly reminder that starting this weekend the Mayor's mask mandate is in effect for all indoor public spaces. Masks are required for everyone who doesn't meet one of the exemptions listed in the Mayor's emergency order (you can read all about it below).

Unfortunately we'll need to keep our masks on even during church (per the mandate) except for those on stage "presenting/singing".

I know that there is a lot of disagreement over the wearing of masks (among other things having to do with this whole situation) but as followers of Jesus we are instructed to obey local governmental authorities unless it violates our faith. So if you're coming to church please comply with the local authorities mandate to wear a mask and make the best of it knowing that you are honoring Jesus in doing so.

I know wearing a mask isn't anyone's favorite thing to do so if you are uncomfortable wearing a mask for an hour or so during church please feel free to watch the services online on either Facebook or YouTube.

If you do meet one of the exemptions for not wearing a mask then by all means come to church and don't feel like you're going to be scowled at or turned away. (man I can't wait for the day when I can turn all of my energies back towards regular church stuff rather than navigating the mind fields of covid-19 compliance. And I have it easy compared to all my preacher friends- not sure how they do it with all the conflict this has caused in their churches. Thanks for being who you are, Riverside. I appreciate you all more than you can possibly know).
We have put the fabric chairs back out with extra room between rows to provide for social distancing. Please keep three chairs between you and anyone not from your household.

See you soon (virtually online or in analog fashion at church with masks).

Pastor Ed
ANCHORAGE, AK — Mayor Ethan Berkowitz issued Emergency Order EO-13, mandating the use of cloth face coverings or masks in the Municipality of Anchorage. EO-13 takes effect at 8:00 a.m. on Monday, June 29, 2020, and remains in effect until July 31, 2020.
Emergency Order EO-13 is in response to increasing case counts in Anchorage over the last few weeks. To support the increase in economic activity following the lifting of the Hunker Down order, and to protect public health, everyone in Anchorage must wear a face covering when in a public space such as a grocery store, pharmacy, restaurant or bar, retail store, and other common indoor areas.
"COVID-19 is spreading rapidly in the Lower 48 and case counts have risen in Anchorage," said Mayor Berkowitz. "Unfortunately, not enough people are practicing the distancing needed to keep the curve flat, so we have a choice between doing nothing, hunkering down, or masking up. Masking up makes a difference. When enough of us do it, we can flatten the curve, keep our businesses open, and our community safe."
Exceptions to this order include:
• children under two years old
• individuals with health conditions who are unable to tolerate wearing a face covering or mask due to a physical or mental disability
• individuals performing an activity that cannot be accomplished, or accomplished safely while wearing a mask
Employers are responsible to provide masks or cloth face coverings to employees who have direct contact with others. Additional details are outlined in the Emergency Order.
This emergency order follows recommendations by the Anchorage Health Department and the Centers for Disease Control and Prevention (CDC) to slow the spread of COVID-19. Wearing a face covering or mask reduces droplets passed on to others when people talk, cough, sing, or sneeze. Face coverings are especially helpful to prevent asymptomatic people from transmitting the virus to others.
Face coverings do not replace physical distancing (staying at least 6 feet away from other people), frequent hand washing with soap and water or using hand sanitizer, and routine cleaning and disinfecting of regularly touched surfaces.


---------------------------------------------------------------------------

And the plot thickens…
May 20, 2020 (about 11:41 AM ;0)

There have been a few questions since the Governor's opening-up-the-state press conference. Right now it doesn't impact what we are doing since the Mayor has yet to open-up Anchorage (of which we are a part). So this weekend will be very much like last weekend (although a bit chillier according to the weather forecast).

We will be opening up the windows to circulate fresh air so dress warmly- it could get chilly.

Please keep praying for all of us (health and wisdom as we move forward) and thanks for being such an amazing group of people.
Jesus is awesome!
Pastor Ed

PS: here's the link to our Eventbrite reservation system.
________________________________________________________________________________
May 15, 2020
We are cautiously going about the process of "opening up" our worship services to having more than just the people putting on the service in the building. It doesn't mean the virus is gone or not a problem still- it just means we are just as concerned about the Riverside family's emotional and spiritual well being as we are your physical well being.

So starting this weekend (May 16/17) we are inviting 40 people to join us at each service. The invitation is for anyone who feels comfortable venturing back into the building with others and spending an hour or so social distancing and caring for your own health and the health of the other members of the Riverside family who are worshiping with you.

We've been hesitant to make this move but I've been talking to health professionals who call Riverside home and together we think we've worked out a plan that is cautious and as safe as we can make it.

This is NOT a test of your spirituality. You're not twice as holy because you worship inside the building. If you are concerned about your health please stay home and we'll see you when this is all over.

Since only 40 people can attend any given service (50 when you count in the worship team, tech team and pastor Ed) we will be using Eventbrite to reserve a spot at each service. You can go to our events page and reserve your spot by clicking here. If there are no more spots then you'll need to stay home and worship along with us on the livestream (sorry about that). Please don't come to the building unless you've got a "ticket" because that will put us over the limit of 50 people per service.

And please, if you reserve a spot and life happens and you can't make it message pastor Ed and let him know.

We are required to have a Covid mitigation plan for reopening so here's Riverside's "plan":

1. If you are sick/symptomatic stay home and get better before venturing out.

2. No more than 50 people at each service.

2. Everyone attending practice social distancing of 6 feet (with the exception of people from the same household).

3. No coffee or donuts. Sorry. We can't provide food or drink of any kind right now. You can however bring your own. And your elementary school teacher would be aghast that you don't have to bring enough to share.

4. Kitchen will be closed.

5. No kids church. Kids will have to sit in the worship service even during the sermon (sorry kids).

6. No touching (fans of Arrested Development have George Senior's voice running through your mind right about now). No handshakes or hugs. We suggest finger guns from at least 6 feet away (introverts you're welcome).

7. Masks are suggested by the State but not required. I know there are a lot of strong feelings about the wearing of face coverings in public. The State recommends wearing a mask to church but does not require it (see health alert 010).

8. We will have separate entrance and exits. Entrance will be through the double doors on either side of the building. Exits will be through the fire doors at the front of the auditorium.

9. We will have hand sanitizer throughout the building and hand washing available in the bathrooms. Please try to limit the number of people in the bathrooms to just two at a time.

10. Communion will be offered. Cups will be double stacked (cracker in bottom cup and juice in the top cup). We will not be passing plates- communion plates will be on tables stationed on either side of the auditorium so practice social distancing when going to the table to get your cups please.

11. We will be using plastic chairs for the immediate future so we can easily wipe them down after each service.

I'm sure there will be more to come. This is not going to be a smooth process but you want the good news? You have chosen to make Riverside Community Church your home so you're used to less than smooth processes, aren't you? Most folks who would be bothered by our total lack of organization and administrative prowess are most likely long gone to one of the churches in town that are well-oiled-machines when it comes to things like this. But we will get through together.

I know there are A LOT of very strong feelings about how to proceed in this new reality we find ourselves in. As the church (and you are included in that word- the church is not the building located at 10301 Eagle River Loop Road- the church is the people who meet in that building and if you're reading this then that applies to you as well as everyone else that calls Riverside home) our number one goal is unity and encouragement through all of this. Some people may feel like we are going overboard with all these precautions and are starting to feel fatigue from all the eye rolling. Some people may feel like we are being cavalier opening up again so soon and that we're not going far enough in our procedures. It's the way it's always been in the church. Not always with this issue but there's always been one issue or another that threatens the unity of the church. Paul had a lot of advice about how to handle that in Romans chapter 14. You can read the whole thing sometime but here's how Paul sums up those who disagree with each other over matters of opinion- in this case whether it's ok to eat meat sacrificed to pagan idols:

Accept other believers who are weak in faith, and don't argue with them about what they think is right or wrong. For instance, one person believes it's all right to eat anything. But another believer with a sensitive conscience will eat only vegetables. Those who feel free to eat anything must not look down on those who don't. And those who don't eat certain foods must not condemn those who do, for God has accepted them. Who are you to condemn someone else's servants? Their own master will judge whether they stand or fall. And with the Lord's help, they will stand and receive his approval. Romans 14:1-4 (NLT)

What was going on in Rome? One side felt like it was no problem to eat the meat sacrificed to a pagan idol that showed up in the meat market the day after it had been sacrificed to Apollo (or Diana or Jupiter or…). The other side felt like it was wrong to eat that meat- they felt like it was idolatry to even consider it. The meat eaters rolled their eyes at the non meat eaters. The non meat eaters shook their finger in the faces of the meat eaters. The result was not what the church is supposed to be about. Paul's answer? Stop it. Both of you.

So when we all find ourselves back together at the building we call home let's keep in mind Paul's advice from Romans 14.

I can't wait to see everyone again. Pray that this process goes as smoothly as is humanly possible (or whatever that passes for at Riverside) and pray for each other. I am looking forward to the day that this will all be in the past and we can resume what passes for an ordinary church service.
Then your face will brighten with innocence. You will be strong and free of fear. You will forget your misery; it will be like water flowing away. Your life will be brighter than the noonday. Even darkness will be as bright as morning. Having hope will give you courage. You will be protected and will rest in safety. You will lie down unafraid, and many will look to you for help. Job 11:16-19 (NLT)
I can't wait til all of this is like "water flowing away".

See you soon.
Jesus is awesome. ?
_________________________________________________________________
May 8, 2020
Mother's Day @ Riverside
Hey everybody. Things are loosening up but with only 50 folks allowed at a time at church we don't see how to "open up" Riverside and make room for everyone that wants to come back to church.
So this weekend we will still be online only ?? but it is Mother's Day so we're still going to do a slideshow honoring all our ladies (whether you are a mom or are a lady that ever have ever had a mom).
I'll still do a separate show for each service so send me 3 pictures of you ladies with your kids or moms or any combination thereof. Bonus points for quarantine themed photos ??.
I know this is SUPER last minute but I need the pictures by Friday night at 9 pm.
Send your photos to EagleRiverside@gmail.com please with the subject line "Mother's Day 2020" and don't forget to let me know which service you'll be watching.
____________________________________________________________________
March 20, 2020 11:15 AM
Hey Riverside- this weekend we begin our "online only" weekend services schedule in order to comply with the no-groups-over-10 rule.
We'll be streaming from Riverside with only essential personnel (that sounds so official- me and the worship team) so stay home, stay safe and when you tune in let us know you're there so we can say hello.
If you haven't done it already you might want to gather the supplies you need to take communion with us. Traditionally grape juice (or wine) and unleavened bread (without yeast). For the unleavened bread you can use matzoh crackers or even pretzels (we once had to do communion with those little goldfish pretzels which was strange but delightful because it reminded me of Jesus feeding the 5,000 but I digress).
And if you don't have juice, wine or unleavened bread/pretzels then make due with whatever you can find that best represents those things. I would have been fired from most churches for even suggesting such a thing but there is precedent in the Bible for the people of God wanting to worship Him but not having everything in place to worship Him exactly as prescribed and so what did they do? They made due the best they could. I'll be publishing a reflection on that story in coming days.
As always please keep praying for Riverside and for our entire world as we try to navigate this new reality we find ourselves in.
God bless. Fear not. Do this in remembrance of me (Jesus- not Ed ;0) and never forget- Jesus is awesome!
Pastor Ed
_____________________________________________________________________________________________________________
March 13, 2020 2:00 PM
We have been talking to health professionals to get their best thinking in this situation so that we can make the wisest decisions possible regarding gathering together during this time or going to online church only. At the time this was posted there has only been one case of Covid-19 substantiated in Alaska and health officials believe they caught it before it could be spread to others. Obviously there's no telling if there are undocumented cases already here but for now we're going to try to walk a line between caution and panic so that those of us that call Riverside home will have a place to gather and find comfort.
Here are the highlights of the lengthy post to follow:
1. Church is on for this weekend (March 14/15, 2020)
2. No kids classes at any of the services.
3. Please stay home and watch online if you are sick, have been in contact with someone who's sick or if you're worried you might get sick (part of the more vulnerable demographic).
4. No handshakes or hugs at church until this passes.
5. The kitchen will remain open this weekend (this means donuts and coffee) but please sanitize your hands before entering the kitchen and help your kids to do the same.
6. Stay tuned because this is a fluid situation and things can and do change quickly.
For clarification of the highlights read on.
We'll have all three regularly scheduled gatherings but there will be some more changes as we attempt to understand and deal with this present reality.
1. We will be eliminating our kids classes at least for now. Kids will be welcome but will be in the auditorium with their parents rather than going to their own classes. Why? Mainly because the Alaska State Health department has requested that organizations not gather kids from different schools together. The hope is that if an outbreak comes to Alaska they will be able to trace its source to a particular school but if we're mixing kids from all kinds of different schools together that will make tracing the source much more difficult (and we'd just as soon that Riverside wasn't ground zero for the outbreak ;0) I know that if kids come to church with their parents they will be mixed together to a degree but not to the degree that sticking them in a small classroom with toys that they all touch and surfaces they all touch. Obviously this was a difficult choice for a church like Riverside that LOVES kids but as I said, we are attempting to walk a very thin line between panic and caution and this seemed like the most prudent way forward.
2. Communion will be served quite differently. Rather than passing a plate stations will be set up around the sanctuary where folks can pick up the cups containing the bread and the juice. If you would rather not take communion that is your decision and nobody will think less of you but for those who take deep comfort in communion we want to make it available.
3. PLEASE: If you are currently sick or in one of the more sensitive groups please stay home. If you have someone at home who is sick please stay home. One of the reasons many churches are closing their doors and going online only is due to an abundance of caution over their more vulnerable populations. Many of those most vulnerable are the very ones that feel an obligation to show up at church any time the doors are opened. We pray that you will all care for yourselves and not take unneeded risks with your health. I would add that if you have someone at home that is high risk that you consider staying home so you don't bring something back with you without realizing it and put that person in danger.
4. We will continue with the no handshakes or high fives and continue to employ the waves, finger guns and smiles that we went with last weekend.
5. Wash your hands. Wash your hands. Wash your hands.
6. We are going to keep the kitchen opened for at least this weekend but please recognize that's one of the hotspots for potentially passing on bugs. We will have signs up and hand sanitizer stations at both entrances asking for everyone to please sanitize their hands before touching anything in the kitchen to help prevent spreading any bugs around the kitchen area.
I know this may seem like much ado about nothing for some of you. If you've been on Facebook you know our nation is split on the seriousness of this virus. As I said earlier, we don't want to give in to panic but we also don't want to needlessly spread a sickness that we still don't know that much about. As one of my friends put it to me- "Alaska may have a chance to dodge the bullet and we should all do our part."
So what can we do as a church in response to this situation? A few suggestions:
1. Fear not! One of most repeated commands in the Bible is simply, "fear not!" That doesn't mean we shouldn't be careful and cautious but it does mean that our heritage handed down to us throughout the history of faith is one of courage, strength and power. So do not give in to panic or fear.
2. Love your neighbor as you love yourself. It's part 2 of the greatest commands. What does it mean in this situation? We're all still figuring that out, aren't we? For one thing, if you're not one of those who might be most impacted by contacting the virus do your best to keep the spread of the virus down. The phrase "flatten the curve" is being used all over social media and is a big part of what it means to love your neighbor who desperately needs to stay virus free. Compassion is free no matter what you think of this virus scare. Please ask yourself, "what would Jesus do?" BEFORE you post or comment.
3. Share your abundance. Just as "fear not" is one of the most repeated commands in the Bible there is another theme that is repeated over and over to a church in crisis- they're called the "one anothers". Share with one another, bear with one another, care for one another. The point is, if you've got extra of something share the wealth. If this proves to be something that lasts for weeks or months there will be a lot of need in our community. We will look for ways at Riverside for folks to express needs and put them together with people who have more than they need.
4. Pray. Never stop praying. Prayer is powerful and God is in control even when it doesn't seem like it.
As always we will be live-streaming our services through Facebook. The church is in a unique position in history where we can continue to gather even if we're stuck at home.
And please pray for wisdom and guidance for the leadership of Riverside as we attempt to navigate this brand new territory and pray for understanding and patience for all of us moving forward. Riverside is an incredibly flexible group of people and I know God will guide us as we move forward and do our best to figure out what it means to be the church in this trying and confusing time.
Fear not. Love your neighbor. Take care of yourself. Wash your hands. Jesus is awesome!