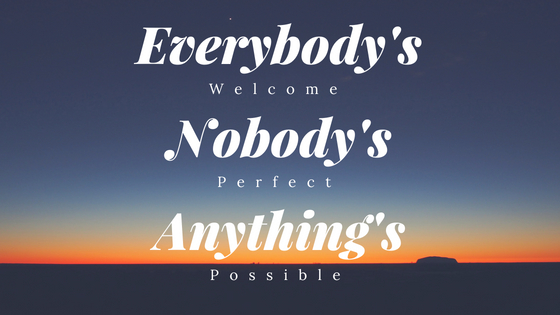 Everybody's Welcome ~ Nobody's Perfect ~ Anything's Possible
When Jesus walked this earth it was almost like He had three signs hanging around His neck that everybody sensed were there- everybody's weclome, nobody's perfect and anything's possible. It was how He interacted with every person who ever approached Him- it still is.
Everybody's Welcome
- It didn't matter who you were, where you had been, what you had done or what had been done to you- if you came to Jesus you were welcome. He offered the gift of unconditional acceptance to everyone who ever approached Him. With Jesus everybody was welcome. But Jesus never leaves us the same way He finds us- He wants to change us. The tag-line for Max Lucado's book Just Like Jesus (one of my favorite books of all time in fact) says, "Jesus loves you just the way you are right now. But He loves you too much to let you stay that way. He wants you to be just like Him."
And as far as Jesus is concerned anyone can become just like Him if we learn to follow Him.
Nobody's Perfect
- Aren't you glad that's one of the signs that describes Jesus' response to each one of us? He knows I'm not perfect. If I was He wouldn't have had to come to this earth to live the life I should have lived and die the death I was destined to die so that I could share in the reward that rightfully belongs only to Him.
But He did. He loves me (and you by the way) that much. That's fantastic when I'm thinking about how lucky that makes me but it can get a bit less fantastic when we realize that "everybody's welcome and nobody's perfect" extends to everyone else I come into contact with (especially in the church where people who claim to speak for Jesus have so much power over how the rest of the world sees Jesus).
You see Jesus will go anywhere He's invited. But as far He's concerned anywhere He goes everybody's welcome there as well. That's not always terribly comfortable for us, is it? There are people we'd just rather not have to accept but it's not up to us. As Jesus' community on this earth (Riverside is only one of those but we are a part of His community that claims to follow Him so...) we are responsible to carry on His way of dealing with people.
In fact- there are only three places in the New Testament where the Bible tells us that Jesus did something for us and now He expects us to do it for each other- those three are love, accept and forgive:
I am giving you a new commandment: Love each other. Just as I have loved you, you should love each other. Your love for one another will prove to the world that you are my disciples. John 13:34-35 (NLT)

So accept each other just as Christ has accepted you; then God will be glorified. Romans 15:7 (NLT)

Make allowance for each other's faults, and forgive anyone who offends you. Remember, the Lord forgave you, so you must forgive others. Colossians 3:13 (NLT)
Not an easy banner to carry on but one we at Riverside are absolutely committed to. Is it always pretty? Nope. But it creates a kind of community that is irresistable to a world that is longing for Jesus' love, acceptance and forgiveness- even if they don't realize it at the moment.
And when someone is treated with the unconditional love, forgiveness and acceptance of Jesus it creates this sort of climate in their lives where the third sign of Jesus' community comes into play- anything's possible.